Fruit
List of fruit.
Sweet fruit from all over the world.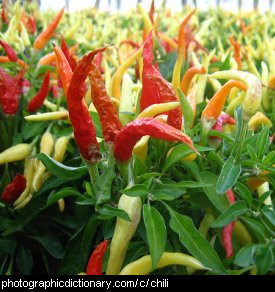 Photo by
Jeremy Keith

Scientific name: capsicum annuum
The chili pepper, also spelt chilli, is a small fruit that ranges in colour from green to yellow to red, the most common. The chili is very hot, and when you eat one it feels like your mouth is burning. Chilis are in the same family as the capsicum (bell pepper).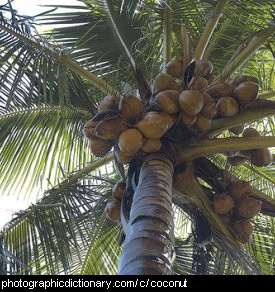 Photo by
Koshy Koshy

Scientific name: cocos nucifera
The coconut is the fruit of the coconut palm. Coconut palms grow in tropical areas of the world along beaches. They like warm weather, regular rain and high humidity, which is why they grow well in the tropics.
You eat the flesh inside the coconut fruit, but there are many, many uses for the rest of the coconut palm. There are too many to list here, but they include: making rope and doormats from the outer shell of the nut; making bowls from the inner shell; and building houses from the trunk and branches of the palm tree.
Coconut is used in many different ways in a wide variety of foods. One you might recognise is simply dried, grated, and stuck to the outside of a lamington!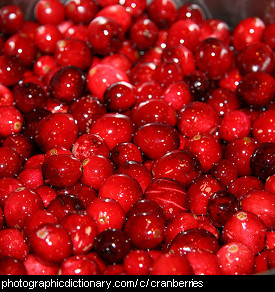 Photo by
Ivy Dawned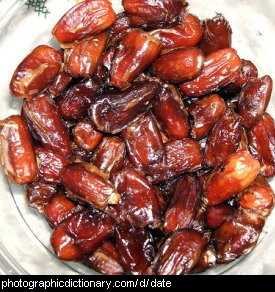 Photo by
Daniel R. Blume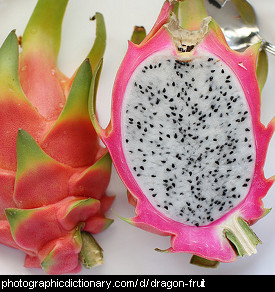 Photo by
John Loo

Scientific name: hylocereus undatus
Dragon fruit grow on a vine-like cactus. They are native to Mexico, Central America, and South America but are grown in a number of Asian countries and even Australia. Their flowers open at night and have a nice smell.
The pulpy center of the fruit is eaten raw, and the juice can be drank or used to make wine. Dragon fruit has a very mild taste.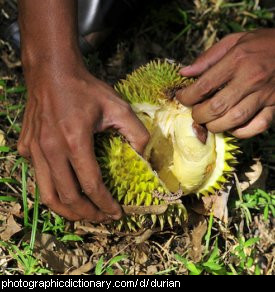 Photo by
Irwandy Mazwir

Scientific name: genus: durio
Durians are a large, heavy, prickly fruit from Malaysia and Indonesia. They have a very strong smell that some people find disgusting and other people really like. The taste is described as like custard with almonds.
Durians are used in many dishes in Malaysia, especially sweet desserts.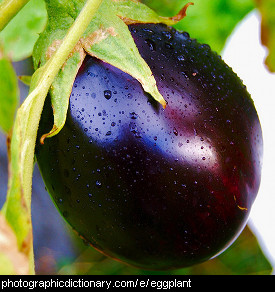 Photo by
GarlandCannon

Scientific name: solanum melongena
The eggplant, aubergine or brinjal is a dark, almost black fruit related to the tomato and potato. Eggplants are originally from India, and grow best in tropical and subtropical climates.
Eggplants are a little bitter when they are raw. They have thin skin and do not need to be peeled. Eggplants are often just sliced and fried or grilled, and they have a much nicer flavour when they are cooked. Eggplants can absorb a lot of oil and fat and are good to use in very rich dishes.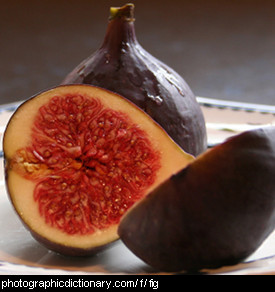 Photo by
Xerones

Scientific name: ficus carica
Figs are the flower of a medium sized tree that is grown almost all over the world. It is originally from the Iran and Pakistan area. It can be grown in most climates, and will tolerate some degree of frost and drought. Figs can be eaten raw, made into jam, cooked into desserts or most commonly, dried.
You can grow your own figs in several different ways. You can take cuttings of bare branches in late winter to early spring before the leaves grow and put them in a sheltered spot in some sandy potting soil. You can also grow them by bending over a young branch and pinning the bend into some soil, waiting for roots to grow at the bend and then cutting the branch from the main tree. Or you can grow figs by layering.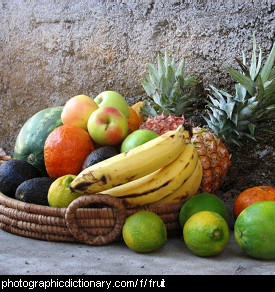 Photo by
Ani Carrington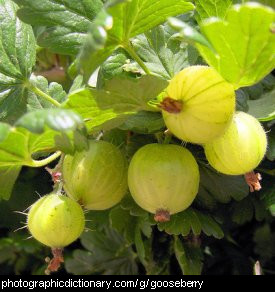 Photo by
John Haslam