Domestic animals
Animals that have been tamed or modified by people.
And fluffy baby animals too!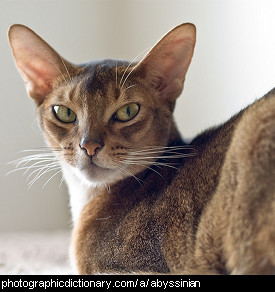 Photo by
John Morton

The Abyssinian is an ancient breed of cat of uncertain origin, from either Egypt or Ethiopia. It is slim, lithe, and has a distinctive flecked (ticked) brown coat, large ears, and a long tail.
They are active, intelligent, curious cats. They make good pets, but need constant attention or they get bored and unhappy. They are excellent hunters, so this needs to be taken into consideration if you live near a wildlife reserve and want an Abyssinian as a pet.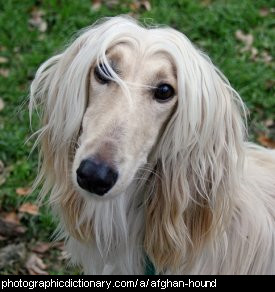 Photo by
Diveofficer

Afghan hounds are a large, slim dog with a long, silky coat that gives them a very distinctive appearance. They are a very old breed from the mountains of Afghanistan, developed to find hares and gazelles.
They are an independant dog, and are not easily trained. Even when trained, they aren't always obedient and will ignore commands they don't feel like obeying.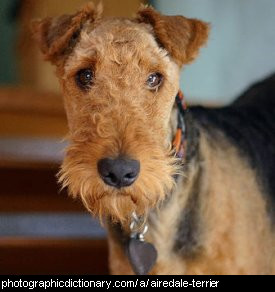 Photo by
Amonja

Airedale terriers are originally from Yorkshire in England, and are one of the largest terriers. They have a very wirey coat and shed very little, especially if they are kept well groomed. Airedales were originally bred to hunt otters, but today are used as a police dog or as a pet. They are strong-willed, stubborn, and can be difficult to train.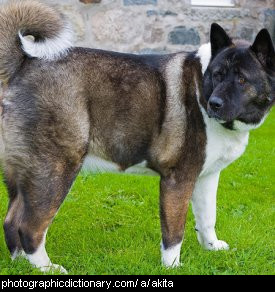 Photo by
Alden Chadwick

Akitas are large dogs originally from Japan, and are descended from one of the oldest dog breeds. The breed is currently split into two - the American Akita and the Akita Inu. The American breed is larger, and a lot more colours are allowed.
Akitas are a friendly, playful dog that needs lots of exercise. They can be boisterous around children, and can also be dominant so they need to be well-trained.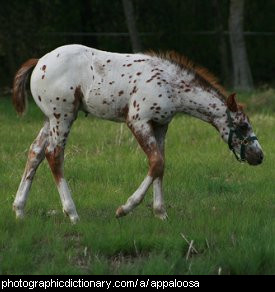 Photo by
Bankerssilvermoon

An appaloosa is a breed of horse with a distinctive spotty coat. Appaloosas are usually used as a stock horse.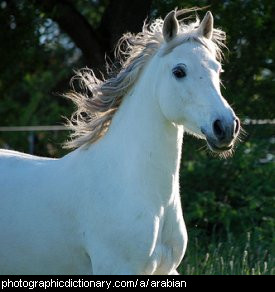 Photo by
Andrea & Stefan

Arabian horses are an ancient breed from the desert of the Middle East. They are fairly small horses with a distinctive shape and carriage. Arabians are elegant, gentle and affectionate.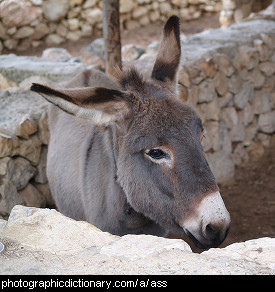 Photo by
Ran Yaniv Hartstein

An ass is another name for a donkey.
An ass is also a slang word for your buttocks.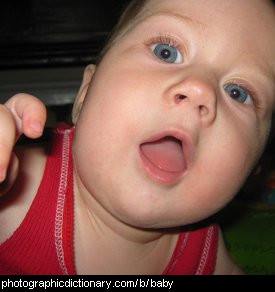 Photo by
Giraffian
A baby is a very young person. Babies are small and helpless, and can't walk or talk. When babies get a little bit older, they move around by crawling on their hands and knees.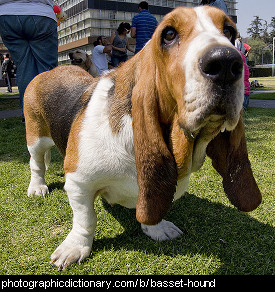 Photo by
Sari Dennise

Basset hounds are dogs with very short legs. They were bred as scent hounds, to track rabbits by smell. Basset hounds are white with coloured patches.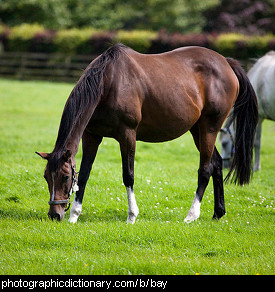 Photo by
William Murphy