Warm-blooded
Warm-blooded animals.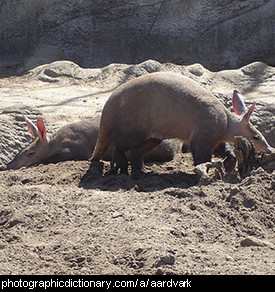 Photo by
MontageMan

Scientific name: orycteropus afer
The aardvark is from Africa. It is a very good digger and sleeps during the day and comes out at night to dig. Aardvarks are distantly related to elephants. Aardvarks eat ants and termites.
Aardvarks are extremely primitive in their makeup and could be called a living fossil.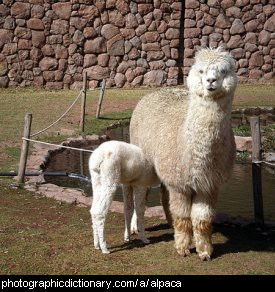 Photo by
Aaron_M

Scientific name: vicugna pacos
The alpaca is a kind of domestic animal bred for its wool, the same reason people keep sheep. Alpacas are related to llamas and camels but are a lot smaller than both. Alpacas come in lots of different colours, such as black, white and lots of different shades of brown.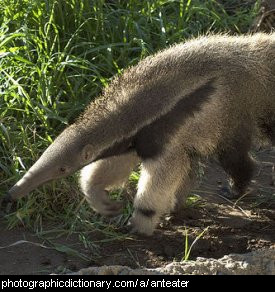 Photo by
Graham Hughes

Scientific name: myrmecophaga tridactyla
The anteater is an animal that, as its name suggests, eats mainly ants and termites. They have a long, sticky tongue that they flick into ant nests. There are four different types of anteater, the anteater in the picture is the giant anteater. They are related to sloths. Giant anteaters can grow up to 2.4 metres long, including their tail. Baby anteaters ride on their mother's back.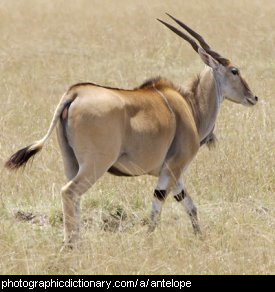 Photo by
Lip Kee

Antelope is a word used for any one of a large group of animals that are related to goats, sheep and cows. Many antelopes look like deer but are actually not closely related - antelopes keep their horns through their lifetime and deer shed their horns every year.
The antelope in the picture is an eland.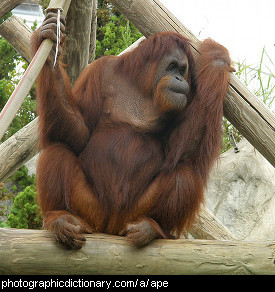 Photo by
Jim Bowen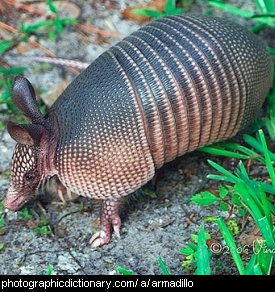 Photo by
Leppyone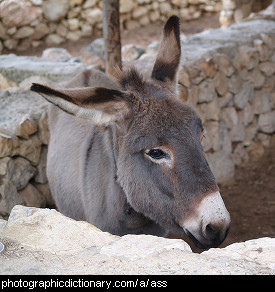 Photo by
Ran Yaniv Hartstein

An ass is another name for a donkey.
An ass is also a slang word for your buttocks.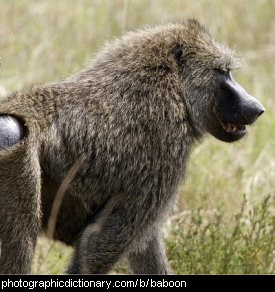 Photo by
Lip Kee

Scientific name: genus: papio
There are lots of different kinds of baboon. They are a kind of monkey. They live in Africa, on the ground, not in trees. Baboons have long muzzles like dogs, tails, and male baboons often have a mane.
Baboons eat mostly plants, fruit and insects, but will also eat fish and small animals.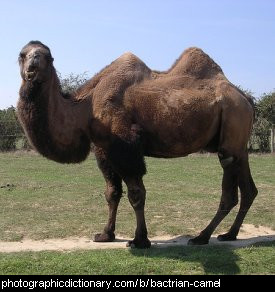 Photo by
Tom Rolfe

Scientific name: camelus bactrianus
The bactrian camel is different to the dromedary camel because it has two humps instead of one. There are a lot less bactrian camels, and there are very few wild ones left.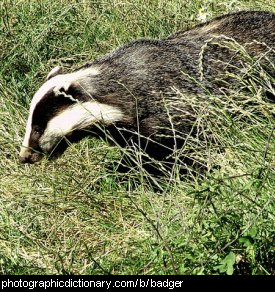 Photo by
Reg Mckenna

Scientific name: meles meles (European badger)
Badgers are related to weasels, otters, wolverines and ferrets. They eat small animals and sometimes insects. Badgers come from Europe. They are excellent diggers, and make themselves burrows called setts.
A male badger is a boar, a female badger is a sow and a baby badger is a cub. The collective name for a group of badgers is a cete.