Nature
Categories in the photographic dictionary that relate to nature.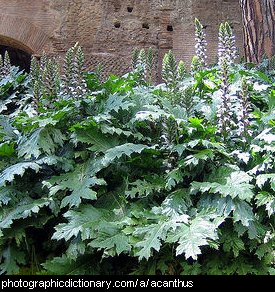 Photo by
Anthony Majanlahti

Scientific name: acanthus mollis
Acanthus, or bear's breeches, is an attractive, hardy ornamental perennial plant that grows to around a metre high. It has big, glossy dark green leaves and a tall flower spike. It often dies down during the drier months. It is extremely hardy and will tolerate heavy frost and heavy drought. It has thick roots, and if you try and dig the plant up it will regrow from any broken roots that are left behind. This makes it very easy to grow new plants from root cuttings or by breaking up a clump.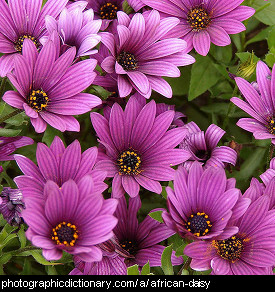 Photo by
Echoforsberg

Scientific name: dimorphotheca ecklonis
African daisies are very hardy plants originally from South Africa, with rich green leaves and purple or white flowers. They grow to about 40cm high, and will spread to form a groundcover. They tolerate both frost and drought, but do not like being in soil that is too damp. They are easy to grow from both seeds and cuttings.
This plant is regarded as a weed in parts of Australia.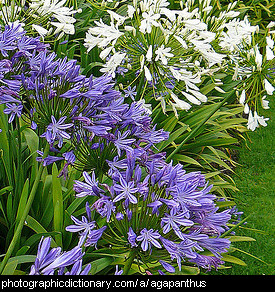 Photo by
Tim Green

Scientific name: agapanthus africanus
The agapanthus, or Lily of the Nile, is a plant originally from Africa. It is very hardy, and has bundles of blue or white flowers on the end of stalks. They can withstand both frost and drought, but are much happier in warmer weather with more regular watering.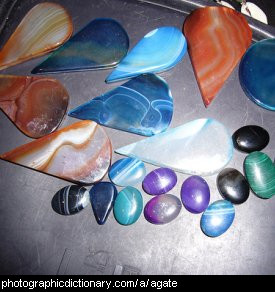 Photo by
Kafka4prez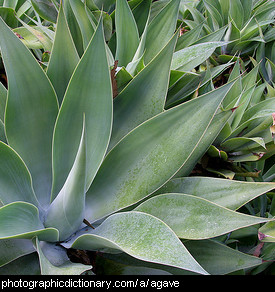 Photo by
brewbooks

Scientific name: agave attenuata
Agaves are a large genus of plants from Mexico. They are very hardy, with a distinctive spiral of large, pointed leaves. The agave in the picture is one of the most common varieties of agave, agave attenuata.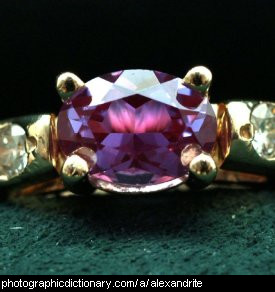 Photo by
Christina Rutz

Photo by
Qorize

Algae are a large group of very primitive plants. Algae usually grow in the water, and the algae most people are familiar with is the green slime that grows on the inside of fish tanks.
Algae can range in size from that familiar green slime right through to what is commonly called seaweed. Most algae grows in the water, but it can also be found on land too.
Some algae grow with other organisms. Lichen is algae and fungi growing together. Some corals and sea sponges have algae growing inside them to provide them with oxygen and sugars.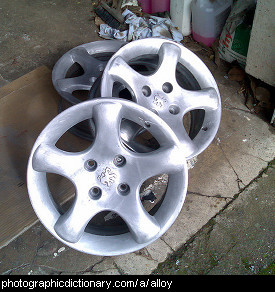 Photo by
Andrew Eaton

An alloy is a mixture of two or more metals, or one metal and something that isn't a metal. They are mixed together so well you cannot tell that the alloy is not a pure metal. Alloys typically have very different properties to the components that went into making the alloys. Alloys are often much, much stronger than their individual components. Many tools and machines are made from alloys because they need to be strong.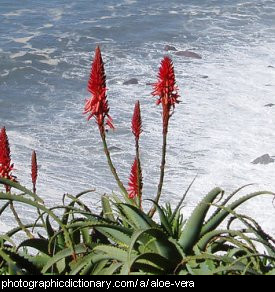 Photo by
Emdot

Scientific name: aloe vera
Aloe vera is a type of succulent plant, suited to arid regions. The plant is supposed to have many medicinal properties, and you often see aloe vera added to tissues - the aloe are supposed to stop your nose getting red if you have a cold and blow your nose a lot. Aloe vera is meant to be very good for your skin, and it helps burns heal faster.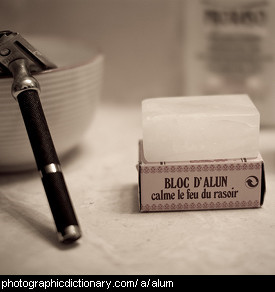 Photo by
David Fant

Alum could refer to either a specific mineral, or a general class of similar ones. ( /ˈæləm/) is both a specific chemical compound and a class of chemical compounds. The mineral usually referred to as alum is hydrated potassium aluminium sulfate.
Alum is an effective blood coagulant, and used to be sold in blocks as part of shaving kits. You use it to stop shaving cuts from bleeding.
And also ...
Alcohol
,
Annato
,
Bluff
,
Bong
,
Breeze
,
Caffeine
,
Deadly nightshade
,
Drug
,
Environment
,
Equator
,
Five fingered fern
,
Fjord
,
Flint
,
Gulf
,
Hebe
,
Heroin
,
Jade plant
,
Jojoba
,
Kelp
,
Knoll
,
Lagoon
,
Lotus
,
Meteor
,
Pepper tree
,
Plateau
,
Poplar
,
Protea
,
Quagmire
,
Ravine
,
Scenery
,
Soy
,
Space
,
Typhoon
,
Venom
.